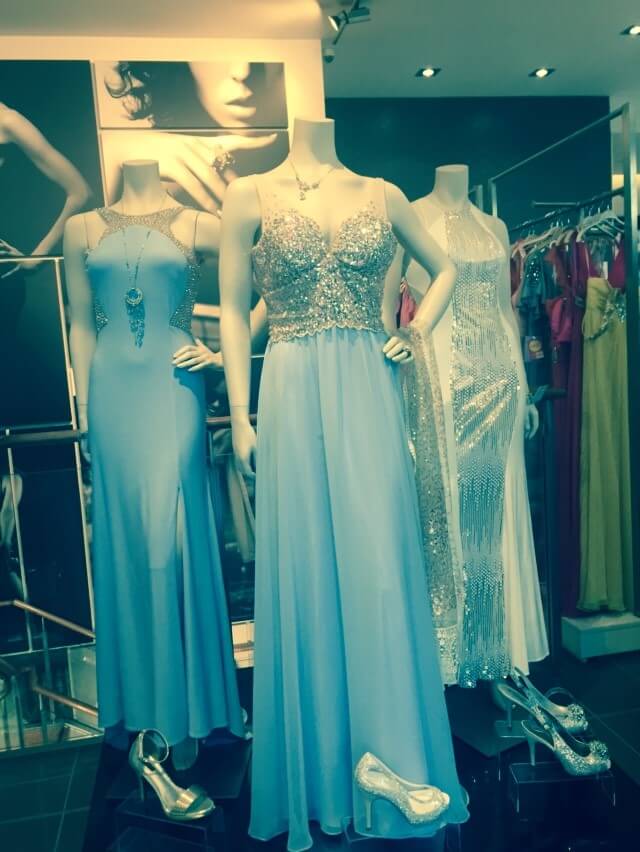 This week I wanted to target Limerick students and where they should go to get all of their deb's essentials. I did my research and had a little bit of past experience myself, so here is the Big Boss Events essential debs guide.
We all know for the girls that the dress is the number one priority. The first two places that come to mind would be The Ivory Closet and Be Fabulous.
The Ivory Closet is a designer dress hire boutique situated on Shannon Street in Limerick City. Inside is a ladies dream ranging from party dresses, cocktail dresses and stunning ball gowns. Born from a love of fashion, the Ivory Closet was developed by Limerick born sisters Niamh, Sheila and Aine Cahill. After years of experiencing the burn in their pocket from spending money on that special dress seen on their favorite celebrities, the girls came to notice that you really do only wear the dress once, never to be revisited in their Closet. I went and gave the girls a little visit and took some pictures too! Also, if you bring your Big Boss Events ticket with you, you will receive a discount!
Everyone has to know Be Fabulous. Even if you don't find your dress in here at least you got to meet the famous owner of the shop Will! Be Fabulous is situated at 17 Shannon Street Limerick and has a range of dresses to purchase at very affordable prices. Will outsources all of his dresses from the fashion capital Paris, as well as New York, Australia and Spain, you are sure to find a one of a kind! I took some pictures of my favourite dresses that I found in this cozy shop.
If you find you are still searching for your dress Pamela Scott is your next bet! The last of the original Irish-owned fashion emporiums on Grafton Street, Pamela Scott continues to trade successfully against the multinationals year after year, by constantly modernizing and adding new younger labels without ever alienating its traditional, loyal customer. Pamela Scott stocks leading labels such as Sophie B, Twist, Zapara, Olsen, Gerry Weber, Bianca and Betty Barclay. I went in for a sconce and found some of these lovely dresses.
Okay, so priority number two has to be shoes (even though they will probably be taken off by about 12). I always find that there isn't a lot of variety of shoe shops in Limerick, so it can be quite tricky for find the right pair.
If you are looking for a simple pair of heels I always find Brown Thomas have nice ones in the Kurt Geiger section, and who doesn't  love a new pair of KGs? I found these pair on my mission!  If your looking for cheap and cheerful shoes Shoe Rack would be your best bet. They always seem to have nice heels at affordable prices.
Choosing where you get your make-up is a major factor. Usually everyone plays it safe and goes to the MAC counter in Brown Thomas. I recently discovered the amazing Laura Mercier, which gives a more elegant and sophisticated look. Its good to be different, so why not change it up and go for something a little different? Another option is getting a make-up artist to come to your house, its way more convenient and usually the same price. The only person I would recommend for this is MUA Fiona Mc Namara, whatever location and whatever time, she will be there for you!
Everyone would usually go to the hairdressers that they have been going to for years, which is pretty understandable as a lot of trust is involved in letting anyone touch your hair! But a recent discovery of mine has been Fox & Bow, which is located on Patricks Street. They have amazing stylists that can do pretty much anything with your hair (even the Kim K transformation), at reasonable prices.
If you're planning on getting a spray tan and your nails done you should definitely shop around for the best deals. Lots of beauticians have special deals/packages during debs season. Beauticians that I would definitely recommend is Seventh Heaven, they always have incredible offers for deb's students and all of their services are 10/10.